"

"Organic sound with a diverse variety of styles"" - Zeus
— Indie Music Nation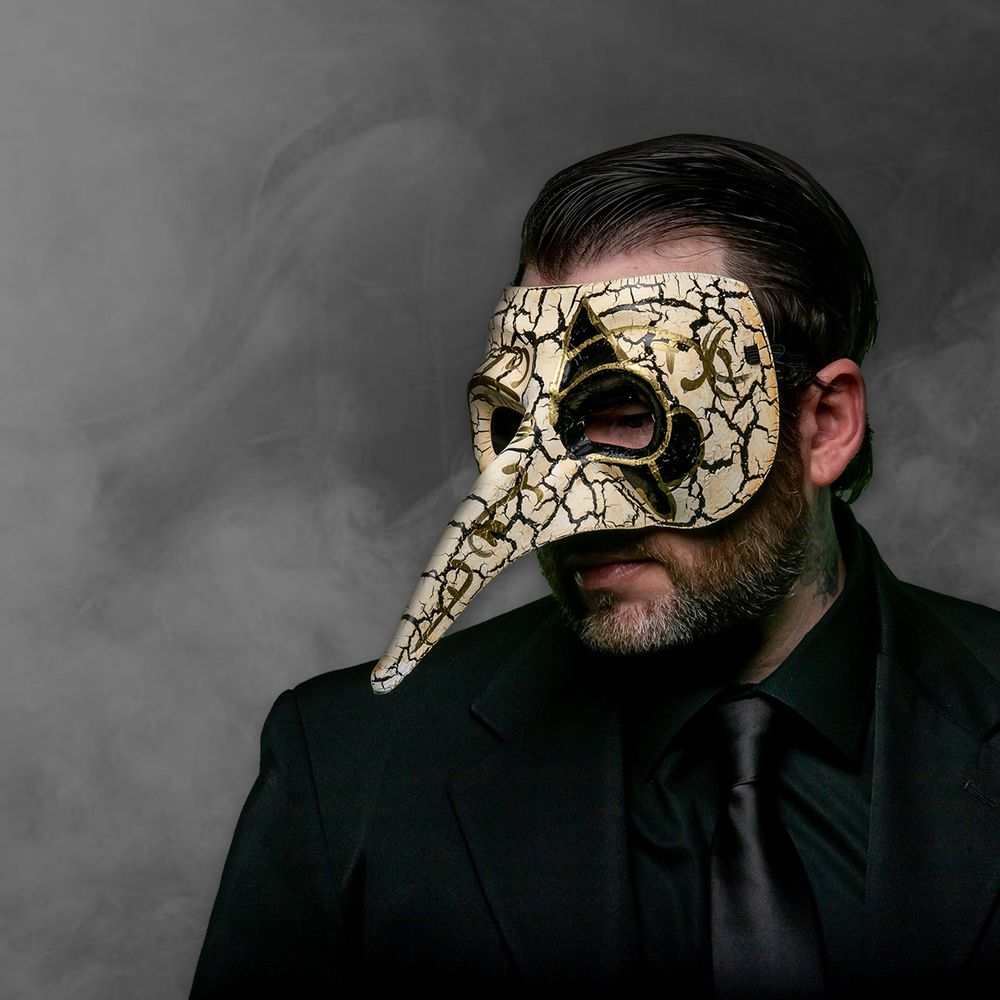 North Carolina Indie-Alt rocker Buster Jangle began as a creative platform for Fayetteville songwriter/producer Ernesto Rivas, drawing influences from various musical styles, such as Hard Rock, Glam Rock, New Wave, Electronic, Power Pop, Alt-Grunge, Trip Hop, and Indie Music.  With a new year's resolution to finally step out as a performing songwriter after years of supporting other bands in the local music scene, Buster Jangle was created in earnest on January 1, 2020 to establish a platform for Rivas's creative output.
Buster Jangle's original music is for fans of artists such as The Lemonheads, Gin Blossoms, Wilco, Pixies, David Bowie, Talking Heads, Tears for Fears, Scott Weiland, Tennis, Broken Social Scene, Japanese Breakfast, Khruangbin, The War on Drugs, and more.  Rivas's influences are an ever-evolving charcuterie of musical textures and styles, which especially includes Classical and Jazz, even traditional folk from around the world - whatever suits the spectrum of moods and human expression, as any dedicated creative ought to be.
Over the years since 1999, Ernesto has made a name for himself as a solid musician in the Fayetteville region, performing with popular local bands, such as Michael Daughtry & The Drift, Dead City Symphony, The Several Devils Band, Dirty Kin, Evans City Saints, Mandala, Rhythm Tide, and work-for-hire with acts like 87 & Pine, Brother Minor, Black River Township, The Chris Cox Band, Avner Clark Band, and others. 
Ernesto has earned two music degrees, and significant experience as a member of several university bands and ensembles, which includes Methodist University, UNC Pembroke, Appalachian State University, and the University of Miami – all of which accumulated in receiving a B.S. from Appalachian State's Hayes School of Music, and a M.M. from the University of Miami's Frost School of Music.  Rivas is also a member of professional organizations such as the NC Songwriters Co-Op, Nashville Songwriters Association International (NSAI), the Audio Engineering Society (AES), and the American Society of Composers, Authors, and Publishers (ASCAP, both as a writer and publisher).  Rivas is currently studying to become a board certified music therapist at East Carolina University, while providing private music lessons, and conducting a youth guitar orchestra in the greater Sandhills region of North Carolina.
The first incarnation of Buster Jangle was known as The Dawn Chorus in 2019, which had a short-lived run before changing the name to Buster Jangle, due to the former name already being used by other established acts.  The name Buster Jangle is a vestige to Rivas's grandfather, a Korean War and Vietnam veteran, who participated in a series of nuclear weapons testing back in 1951.  With a new name in place, Buster Jangle began performing covers gigs across popular nightlife destinations throughout the Carolinas.
As the world came to a halt in 2020, Rivas seized the opportunity to independently self-produce and release three original singles from his home studio.  Parade of Fools was released on streaming platforms via Distrokid on April 28, 2020, as the lead single of 3 releases that year.  Parade of Fools is a mid-tempo electronic retro-wave arrangement, with lyrics that highlight the follies of jaded love, the double-edged sword of beauty, and introspection of vulnerability.  An exclusive tribute video to famed 1920's silent film actress Louise Brooks was released for "Parade of Fools", which can only be viewed on Buster Jangle's Facebook video page.
In the past few years, Buster Jangle has released 4 original singles, and a cover of the seminal 2006 hit, Heartbeats, by popular Swedish Electronic duo, The Knife.  The music video for Heartbeats features animation from the public domain film, Sita Sings the Blues, by Nina Paley, an adaptation of the Ramayana, as well as based on Paley's personal experiences. 
In June of 2022, Buster Jangle released original single Sehnsucht, the most popular single to date, receiving critical acclaim from various music bloggers and curators around the world.  On Spotify alone, Sehnsucht reached over 5,500 streams from over 500 listeners in 48 countries since its release just 6 months prior.  Buster Jangle has compiled the 5 singles into a remastered EP, titled La Petit Mort, released on digital format April 28, 2023 (the 3 year anniversary of the first single release), and on May 15, 2023 on CD format.  A full-length album is also in the works for late 2023, officially titled Tides,  which will feature several unreleased original songs.  A 2023 Summer record store tour is currently in planning to promote the EP release.
Buster Jangle was designed with the intention of building a complimentary roster of musicians around Rivas's songwriting, who can truly enhance Ernesto's musical vision.  Many performances over the last couple of years have simply featured Rivas performing solo acoustically with a looper, as the search continues for the right chemistry of musicians that will complete the Buster Jangle sound and vibe.   In the mean time, Ernesto's depth of experience in the local music scene has provided connections with an assortment of musicians who have joined him on stage in support.  Each musician has contributed their own unique talents to enhance Buster Jangle shows, ensuring that every live experience is one-of-a-kind in it's own little way.
Meanwhile, Rivas has surely put in the work to build Buster Jangle over the past couple of years, performing 146 shows in over 30 venues across the Carolinas since 2020; from Greenville, NC to Greenville, SC; Black Mountain, NC to Charleston, SC, and various points in between.  Rivas has self-produced and released five singles on streaming platforms; released a remastered EP collection of those singles in both digital and CD format; established an online and social media presence as a content creator; developed a merch line for for Buster Jangle – Rivas has never faltered in pursuit of bringing his artistic vision to life.  Suffice to say, the future looks quite bright for this independent artist, as his story continues to unfold.
So, what is a Buster Jangle live show experience like?  For starters, the repertoire is literally expansive.  Rivas has drawn from his experience over the years in different bands and formal music education, including his current studies at East Carolina to become a board-certified music therapist.  Rivas has an ability to go from one genre/style/era of music to another, with relative ease, because of his experience working with various populations as he trains to meet the requisites to earn the MT-BC title to his resume.  A live show may segue from blues numbers to popular standards that are over 100 years old; early rock tunes from 1950s pioneers, to a set chalked full of 90's favorites; Frank Sinatra to Harry Belafonte; pop culture references, like the crowd pleasing theme from the Netflix series Narcos, to more obscure pop culture references; classic rock, country, R&B, 80's New Wave, even holiday classics and children's songs – whatever the occasion calls for.  With an ever-growing repertoire of over 200 songs and versatile musicianship, no Buster Jangle show is ever the same.
One particular feature of a Buster Jangle live show involves an audiovisual experience, utilizing art, still photography, motion picture, and time-lapsed videos to enhance the audience's experience.  QR codes are integrated throughout the audiovisual and featured prominently on stage, which takes the audience to Buster Jangle's website, where they can access repertoire for live requests, shop merchandise, and catch up on the latest news and content.
With the roster ever-evolving, and key pieces falling into place, Buster Jangle is poised for a strong turnout in 2023.  Current plans involve promoting an April 2023 release of the La Petit Mort EP with a summer record store tour, followed by a full-length album of new original music for late 2023, entitled "Tides".  Buster Jangle will continue to expand to new venues across the Carolinas and neighboring states, as this up-and-coming artist works to refine their direction and sound.
https://busterjanglemusic.com
Facebook @busterjanglemusic
Instagram @buster_jangle_music
Twitter @BustJangleMusic
Youtube @Buster Jangle Music
Buster Jangle - Sehnsucht
Buster Jangle - Heartbeats
Buster Jangle - Parade of Fools
Buster Jangle - When The Stars Refuse To Shine
Buster Jangle - Not A Moment Too Soon